Staffordshire Connected & Intelligent Mobility Innovation Accelerator (SCIMIA)
SCIMIA is a dedicated project led by Staffordshire University driving research and innovation through collaborative knowledge exchange.
SCIMIA is a dedicated project led by Staffordshire University driving research and innovation through collaborative knowledge exchange between Staffordshire University and Stoke-on-Trent & Staffordshire LEP SMEs to develop innovative solutions for the intelligent mobility market.
Defined as the smarter, greener and more efficient movement of people and goods around the world, Intelligent Mobility is a sector of the wider transport industry which is predicted to be worth around £900 billion a year by 2025 (Transport Systems Catapult).
New and innovative solutions have a potential to:
improve the transit of people and goods
transform the infrastructure of cities to increase efficiency and safety, maximise resources, boost sustainability and create resilience
streamline operations
integrate technology, optimise infrastructure
analyse transport data patterns
innovate the planning process
improve end-user journeys
Intelligent mobility is an exciting market where opportunities are identified as the interconnections made through a range of industries and technologies including:
Vehicle manufacturing
Electronic sensors and controls
ICT/ digital and data
Logistics and distribution
Infrastructure management
Innovation areas
Data Collection & Communication Platforms
Data Management & Analysis, M-commerce
Connected Vehicle Products
Monitoring & Management Systems for Road Infrastructure
IoT Asset Management (Road)
Monitoring, Modelling & Visualisation for Software Design
Security, Resilience, Safety & Cyber Security, Traffi c Control Systems
Digital Logistics
Passenger Information Systems
Intermodal Smart Ticketing
Transport Asset Tracking
Autonomous Vehicles
Consulting & System Integration Services for Digital Logistics
Who can apply?
This programme is open to all Staffordshire Local Enterprise Partnership SMEs who operate primarily on a B2B basis.
The tailored support provides a fully funded route towards innovative transformation for businesses who may not currently have the resources or knowledge to develop innovative products or services.
Eligible businesses must have the ability to support and host a student placement or graduate intern and be identified as eligible under the project's approved state aid schemes.
Each SME partnership will receive up to 12 months of support from Staffordshire University to develop new to company and/or new to market product or service.
What to expect
The project will deliver up to 12 months of support to 45 eligible SMEs, each partnership will receive:
One student/ graduate Innovation Consultant for up to 12 months to support development of new product or a service
Dedicated academic lead and supervisor
Access to Innovation Enterprise Zone innovation facilities
Support from dedicated technician
Staff
Steve Hargreaves
Ep Develop'Mt Mgr-K'Ledge Exchng E'Prise
In my current role as an Employer Partnerships Development Manager, I look after the business incubator and take the lead in several exciting innovation projects. I set up KTPs and have supported businesses with Innovate UK bids.
Steve's profile
Jordan Everall
Employer Partnership Development Officer
I am an Employer Partnerships Development Officer, promoting fully-funded and exciting commercial innovation opportunities for Stoke-on-Trent and Staffordshire-based SMEs.
Jordan's profile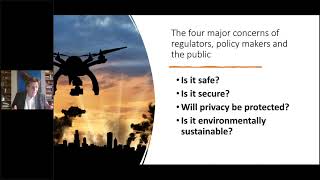 Drones: The Future of Mobility & Delivery
Video
Watch this webinar to explore drone applications across a variety of industries, benefits, barriers and policies that we must consider.
Sorry, this video requires the use of functional cookies which you have not consented to use. Change your cookie settings or watch the video on the provider's website